With thanks to Christian Minimalism blog writer Becca Ehrlich and to Presbyterian pastor Meghan Davis-Brass for letting us re-post this blog entry.
Note: This is a guest post by Meghan Davis-Brass, pastor at First Presbyterian Church in Newton, Iowa, where she also teaches yoga and lives with her husband and dog. Meghan has entirely too much stuff and considers this one of her primary spiritual struggles.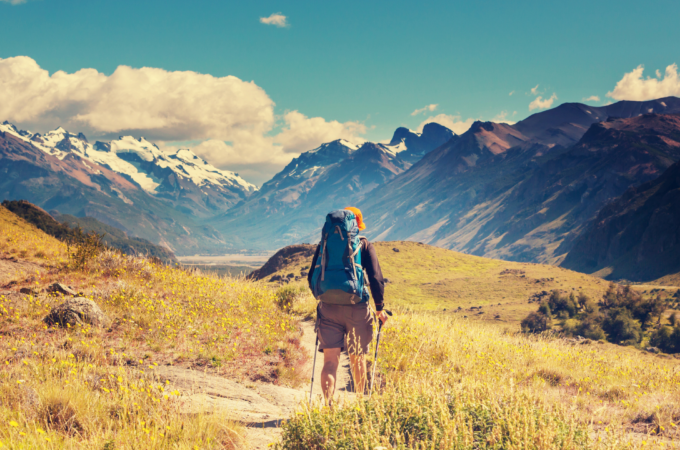 Then Jesus called the twelve together and gave them power and authority over all demons and to cure diseases, and he sent them out to proclaim the kingdom of God and to heal. He said to them, "Take nothing for your journey, no staff, nor bag, nor bread, nor money—not even an extra tunic."

Luke 9:1-3
I'm walking into the beautiful medieval city of Pamplona, Spain.  Three days earlier I started in St. Jean Pied de Port, France, hiked over the Pyrenees mountains and started the walking portion of a practically lifelong dream of pilgrimage.  Though I had only learned of the Camino de Santiago (Way of St. James pilgrimage) a little over a decade earlier, I had been fascinated by the idea of spiritual pilgrimage since reading The Way of the Pilgrim as a teenager.
I was fulfilling my dream of pilgrimage, and on this beautiful day with perfect weather, entering the city made famous by Hemingway's writing about the running of the bulls, I should have been elated.
Instead, I was grumpy.  My shoulders ached under the weight of my too-heavy backpack.  My walking companions (Camino best friends I'd only just met on the pilgrimage) wanted to go the alternative "scenic" route into the city, which was only supposed to be slightly longer.
But because it wasn't marked, this route took extra time and distance to find our way– extra time and distance with my heavy pack that was making me miserable.  All I wanted was to be done for the day.
The problem was no mystery: my pack was just too darn heavy.
Preparing for Pilgrimage
In the year leading up to walking the Camino I began my preparations: reading books, blogs, joining online groups, talking to friends who'd done the Camino and acquiring stuff.  Lots and lots of stuff.
The anonymous nineteenth-century writer of The Way of the Pilgrim had nothing but a knapsack to carry his spiritual book and a loaf of stale bread.  Likewise, historically, many pilgrims on the Camino de Santiago traveled with all their worldly possessions.  Modern pilgrims, too, are advised to carry as little as possible.  A common guideline is ten percent of your body weight.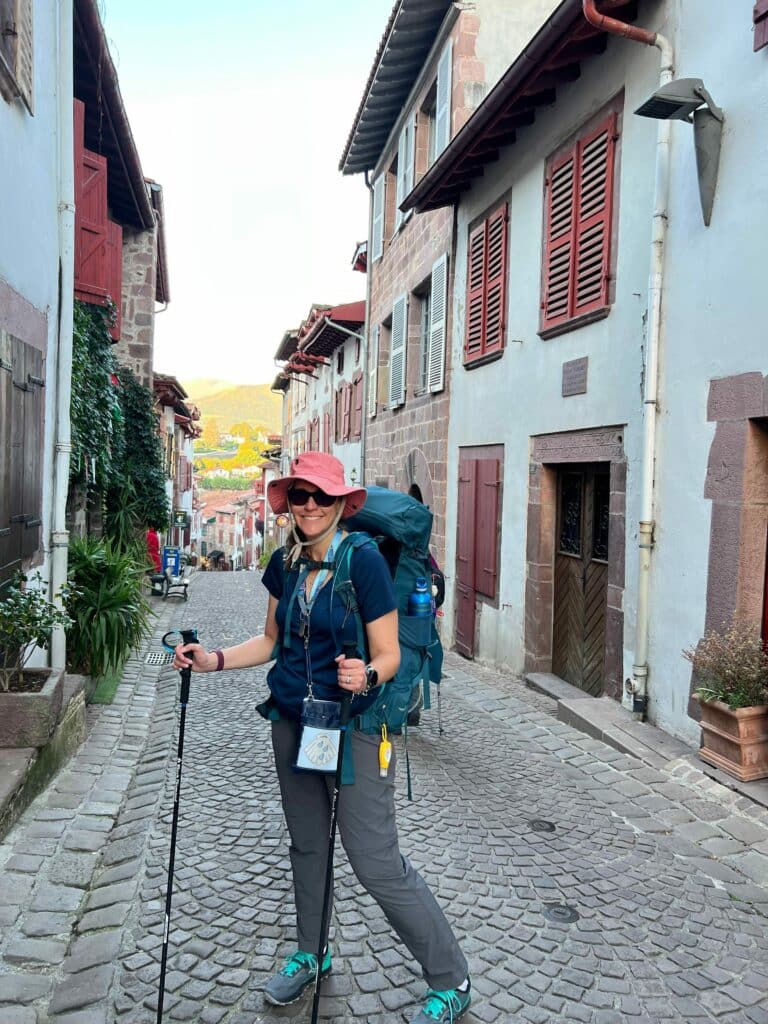 The great irony: in order to carry so little, I ended up purchasing a lot.  I tried different shoes, different clothing, different soaps and other hygiene, even different undergarments.  I was extremely fortunate to have a friend lend me all her Camino gear and yet, in my attempt to follow every recommendation of what to take, I purchased significantly more than I needed, and more than I ended up taking.
Ultimately, I ended up with a backpack that weighed about twenty pounds, not including water. And—unfortunately for me– in the hours before leaving, I threw back in a few more odds and ends that I just felt I had to take.
Carry That Weight
By the end of the third day on the Camino, I was ready to get rid of some more stuff.  I found my way to the post office in Pamplona and sent some things all the way to my final destination in Santiago de Compostela and some to an albergue (hostel) where I'd be staying later on.
These were items I didn't want to carry anymore, but I also wasn't ready to give up altogether.  I was liberated from about three pounds of weight in my pack, and that made all the difference.
On the Camino, the weight we carry is a frequent topic of discussion.  I met a man who, while packing for the Camino, weighed each item and calculated it by the mile, figuring that the true weight of that 83g hairbrush would be 41.5 kilos by the end of the Camino.
He asked his wife, "do you really want to carry this 41.5 kilos?"  (I got the impression that his wife might not have appreciated his approach! "Yes, I do want to carry this 41.5 kilos. Mind your own business!")  Perhaps a more accurate calculation would be to multiply the 83g by the steps taken rather than by the miles.  I take about 2000 steps per mile, so that would come to 83,000 kilos for that hairbrush!
The complicated truth is, there were some things I offloaded that I really did want later on, like my solar charged power bank.  I really missed that the night I stayed in an albergue with no electricity; I had to turn my phone to airplane mode for two days to save the battery and my Garmin watch died.
And then there was my fleece that I decided was redundant because I had another thin zip-up sweatshirt.  I was really happy to get that back later on towards the end of the Camino when both the region and the time of year meant that nights, mornings and even days were getting chillier.
What is Necessary?
But a lesson that I learned on the Camino (and a lesson that I am continuing to learn) is: just because something is useful doesn't mean it's necessary.
For example, that power bank weighed a pound– is it worth a million pounds (multiplying by steps)?  Or even five hundred pounds (multiplying by miles)?
The answer is probably no– not for the one day I would have used it, or even the few other days that it would have been more convenient than having my devices charging on the other side of the dormitory, far from my bed.  But on the other hand, had my phone been stolen while charging on the other side of the dorm, I probably would have wished I had carried that five hundred pounds.
That's what makes our relationship with our stuff so complicated.  For most of us, certainly for me, distinguishing between wants and needs isn't always so clear.  Jesus tells the disciples they don't need anything while traveling: "Take nothing for your journey, no staff, nor bag, nor bread, nor money—not even an extra tunic."  (Luke 9:3) But most of us, even the most stringent of minimalists, acknowledge we need some things.
Reflections on Accumulating Stuff
Now that I am back home, I am continuing my lifelong struggle with "too much stuff" bolstered by clearer vision and more resolve than ever.  Am I willing to metaphorically carry this item 500 miles?  Am I willing to carry it one million steps?
In considering new purchases, some personal finance experts recommend considering the "true price" by figuring out how many hours you'd have to work to pay for the item.  Is it worth that many hours of your life?  Or, if you pay with credit card and carry a balance, what is the true price of that item by the time you pay interest for a certain amount of months or years?
The life-cost of an item also includes the time it takes to maintain it.  Cleaning my house takes so much more time, energy and effort– due to the excess of things I have– than it would if I owned significantly less.
Jesus certainly didn't have much use for stuff.  He was an itinerant preacher, and reading the Gospels we get the impression he had no more belongings than what he advised his disciples to take with them (which wasn't much!).
In the Gospel of Luke, we find the story of the rich ruler who asks Jesus what he needed to do to inherit eternal life.  He'd been following the commandments all his life and thought he was in pretty good shape until Jesus said to him:
"There is still one thing lacking. Sell all that you own and distribute the money to the poor, and you will have treasure in heaven; then come, follow me." But when [the rich ruler] heard this, he became sad; for he was very rich.

Luke 18:22-23
Jesus' invitation is no easier for us in the modern age than it was for the rich ruler.  Distinguishing between our wants and needs can be done on a spectrum.  For many people in this world, a microwave oven would be considered a luxury and "want."  But most of us in the US couldn't imagine getting by without one.
No "Right" Way
Some pilgrimage purists think there are certain things someone must do in order to "truly" do the Camino: walk every step (taking a taxi is cheating), carry your own backpack all day every day (using a backpack transport service is cheating), start in St. Jean and walk the whole way (starting in Sarria or skipping the Meseta desert region is cheating).
But a competing (and more realistic) philosophy of Camino is that there is no "correct" way to make Camino.  Everyone has their own Camino and what's right for you is what's right for you.
This can be another lesson for those of us desiring a healthier, simpler relationship with our stuff.  Just as every pilgrim has their own Camino, every one of us has our own journey on the path toward minimalism.
So as I re-enter my Way toward minimalism, I do so with increased resolve to reduce the volume of stuff I have amassed in my nearly five decades of life, and to reduce it significantly.  But I also do so knowing that there's no "right" way to do it— and my way will be my way.  Every step I take, even baby steps, takes me one step closer to living simply so that others may simply live.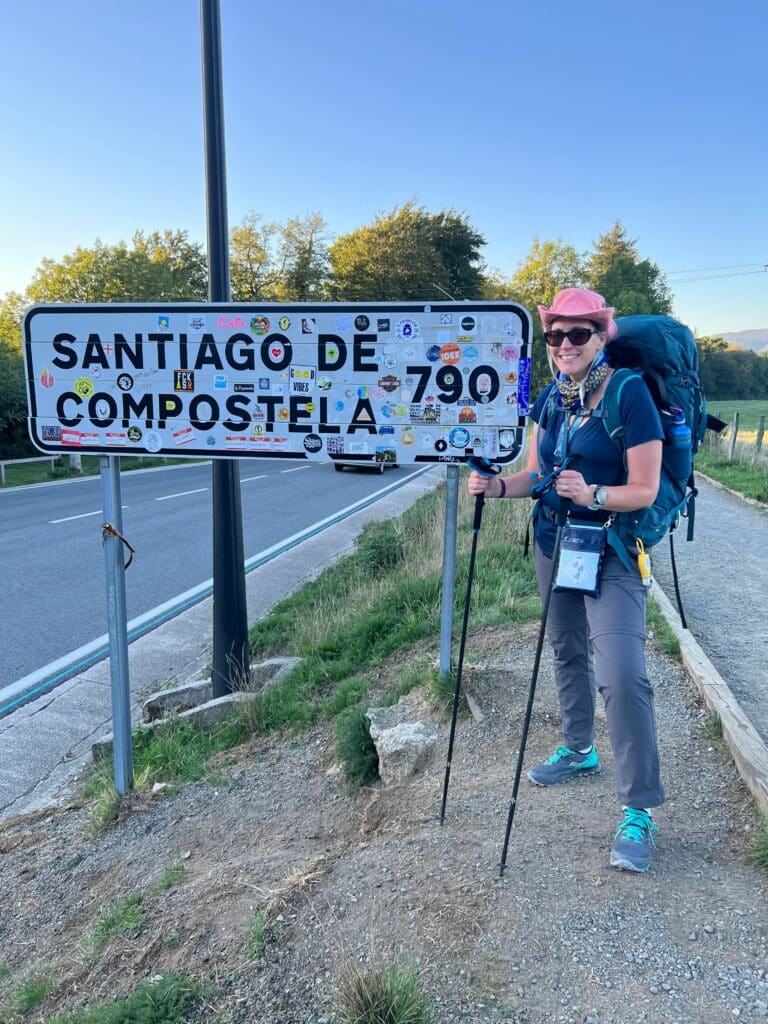 Did you like this post? Check out the Christian Minimalism book!
_______
The Presbyterian Hunger Program addresses root causes of hunger. As such, PHP offers resources, training, and educational opportunities for Presbyterians to be mindful consumers in the global economy and to live intentionally as part of God's creation. The work of the Presbyterian Hunger Program is possible thanks to your gifts to
One Great Hour of Sharing
.
---